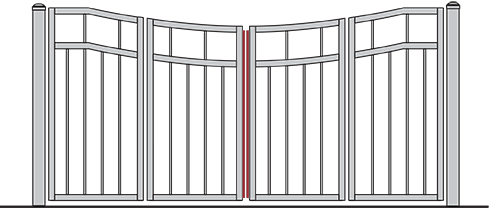 In order to maximize space without compromising security, we install and repair four fold gates for any residence. It's stylish and can be automated to make your life easier. Like many of our residential gate options, we have a wide range of styles and colors to fit your unique home aesthetic.
Four fold gates are perfect for the inner city, apartment complexes, workplace entrances, short, narrow driveways as well as basement parking.
Benefits of a Four Fold Driveway Gate
1. Four Fold Gates Save Space
2. Four Fold Gates Work for Difficult Settings Such as U-Shaped Driveways or Sloped Driveways
3. Four Fold Gates Can Be Easily Automated
4. Four Fold Gates Do Not Need Tracks So It Is Easier to Maintain
5. Four Fold Gates Open Faster Than Swinging or Sliding Gates
6. Four Fold Gates Open and Close in Near Silence
7. Four Fold Gates Are Great for Security
Emergency Request? Click Here.