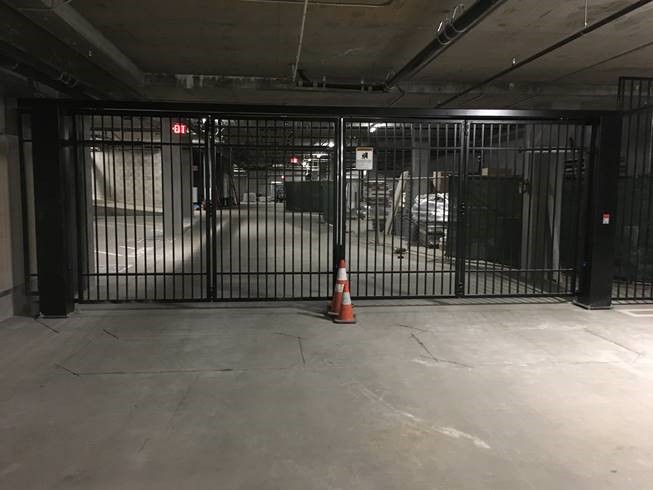 When looking for a driveway gate to secure a commercial or residential property, there are many options, for good reason. While a swinging single-door gate is most common, for many homes and businesses, a single-door gate lacks the flexibility to adapt to continually changing demands. Fortunately, there are alternatives. A four-fold gate offers security, versatility, and ease for those businesses and homes without compromising on aesthetics.
In order to maximize space without compromising security, we install and repair four-fold gates for any residence. It's stylish and can be automated to make your life easier. Like many of our residential gate options, we have a wide range of styles and colors to fit your unique home aesthetic.
Four-fold gates are perfect for the inner city, apartment complexes, workplace entrances, short, narrow driveways as well as basement parking.
Benefits of a Four-Fold Driveway Gate
Four-Fold Gates Save Space

Traditional gates require a lot of space to swing open. The wider the gate, the more space it requires. Short driveways and busy commercial sites make access difficult and time-consuming.
Four-fold gates fold in on themselves rather than take a wide 90-degree swing. Their space-saving benefits make them perfect for homes with short or narrow driveways, construction sites, apartment complexes, firehouses, and any property with limited space.

Four-Fold Gates are Flexible

Four-fold gates accommodate U-shaped driveways, curved driveways, sloped driveways, and all properties with challenging sizes and shapes.

Four-Fold Gates Can Be Easily Automated

A four-fold gate offers all the benefits of automation, including keypad access, remote app-based access, electronic swipe cards, and vehicle cards.

Four-Fold Gates Do Not Need Tracks, So It Is Easier to Maintain

Unlike sliding gates, four-fold gates are trackless. There's no more need to clean and maintain the tracks and wheels with folding gates.

Four-Fold Gates Open Faster Than Swinging or Sliding Gates

A four-fold gate offers all the benefits of automation, including keypad access, remote app-based access, electronic swipe cards, and vehicle cards.

Four-Fold Gates Open and Close in Near Silence

A traditional automated gate is loud and screechy, which is especially problematic in neighborhoods with HOAs and other areas with noise ordinances. Four-fold gates' mechanisms are designed to be nearly silent.

Four-Fold Gates Are Great for Security

Because four-fold gates close so much faster than traditional gates, they leave a lot less time for unwanted trespassers to sneak in.
How to Find the Right Four-Fold Gate for You
When considering a four-fold gate, it's important to work with a company that asks the right questions before making recommendations. At The Door Company, each of our technicians are IDEA certified and is an expert at the latest technologies. As a result, our customers trust us to consider all their needs, which requires a lot more than a tape measure and a catalog of selections.
If you're looking for a commercial gate, we're familiar with all OSHA, building, and fire codes. We also make sure to comply with all city, state, and HOA rules and regulations before installing a residential gate.
If you're curious whether a four-fold gate will solve your commercial or residential gate needs, fill out the form below or give us a call! We service most of California – from just north of Los Angeles to the Oregon border.
Click Here for an Emergency Request