California's Leading Garage Door Company | The Door Company
Residential and commercial garage door company
From durable stamped steel to ornamental wood composite, our garage doors are available for both residential and commercial applications.
We are Fully Certified and Accredited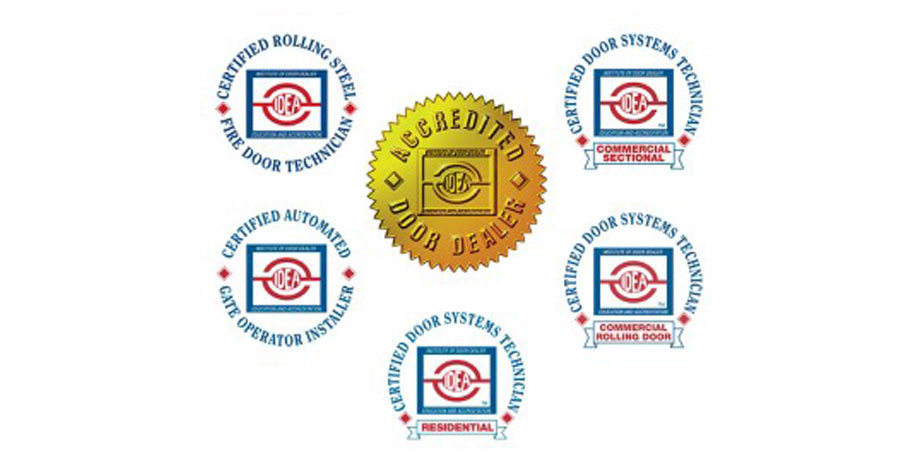 Northern California's leading driveway gate and garage door company, The Door Company (TDC) is proud to affirm that their technicians are certified by the International Door Association (IDEA) and the company as a whole is an Accredited Door Dealer as awarded by the Institute of Door Dealer Education and Accreditation.
"Whether you are buying a new garage door, or getting an existing door repaired, it is important to look for an accredited garage door dealer. There are a lot of unscrupulous people out there who could do a shoddy repair or even create a dangerous situation with an improperly installed new door."
TDC Founder and President, Mark Stuenkel
How Do I Know It's Time for a New Garage Door?
Diminished Speed – If your garage door starts opening and closing much slower than it did when you first got it, or the reaction time is extremely delayed, it might mean you need a replacement.
Increased Noise – Sudden sounds like grinding, crunching, grating, squeaking or banging can be a warning sign that it's time for a garage door replacement. Sometimes increased noise can just mean a certain component needs a repair or replacement however properly functioning garage doors typically run smoothly and quietly. Read more about garage door noises here.
Safety Issues – Garage doors are heavy enough to cause someone serious injury if they slam shut unexpectedly. If you notice your door won't close the entire way or that it doesn't reverse when something triggers the sensor, it could be dangerous.
Unsightly Appearance – The look of your garage door can affect property values and curb appeal. If your garage door is old and worn out, it could be time to update your look.
Reduced Functionality – Wear and tear, dents and fading impact the garage door appearance over time. However, if your garage door breaks down a lot, and you find yourself constantly calling TDC for repairs, it's probably time to consider a replacement unit. Plus, there are many cool new features and capabilities that you might enjoy with newer models offering the latest technology.