Roll up garage doors are an effective solution for business owners with commercial properties. They are reliable and durable, come in a variety of materials and styles, can come both insulated and non-insulated, and have relatively long cycle capacity.
Roll up garage door features
Roll up garage doors can come with a wide variety of features.
Insulated and non-insulated
Types of roll up garage doors
Roll up garage doors come in many different forms, including:
coiling doors
curtain doors
Coiling garage doors
Available for virtually any condition, coiling doors are available both insulated and non-insulated. Where there are windy exposures, these doors can be provided to have higher operation capacities than with standard windlocks.

Coiling doors are the brutes of the industry and are produced with 20,000 cycle capacity minimum, 22 gauge slat curtains, hoods to finish off the coil area, structural angle guides/brackets/bottom bars and are available with three paint colors (standard) and hundreds of powder coat colors, graphic designs and logos. If you want heavy-duty, coiling doors are for you.
Curtain garage doors
Sheet curtain doors have proven to be reliable and durable products, but do not have the construction of a coiling door. Produced with 26 gauge sheets of pre-painted steel coil stock, these doors have roll-formed guides, do not have a hood as standard and are built with 10,000 cycle springs.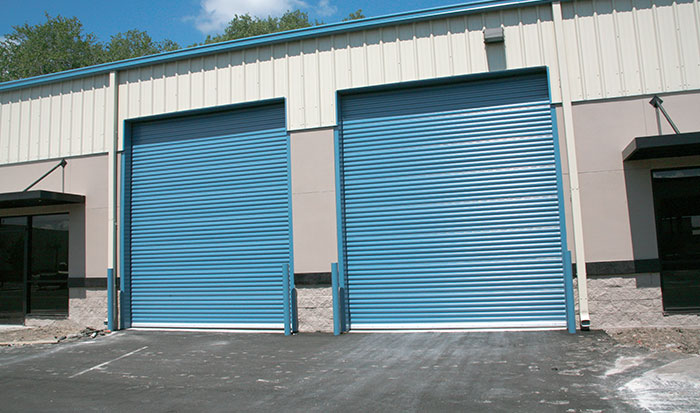 They are available in approximately 20 colors and are used in mini-storages to larger warehouses. Insulation in these doors is typically a bubble type sheet adhered to the interior but is relatively expensive for the insulation value.