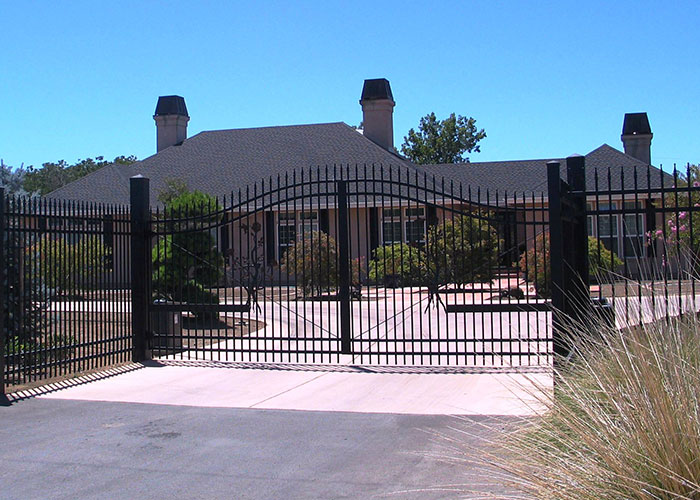 Installing an estate or driveway gate to your property provides extra protection for your loved ones, adds beauty and value to your home, and provides peace of mind. The Door Company (TDC), California's leading garage door company, offers residential and commercial customers a variety of driveway gates that can be selected according to personal style and desired function.

"TDC takes great pride in providing our clients with attractive, long-lasting and dependable gates and control systems designed to meet their security and access needs," said TDC President Mark Stuenkel. "Whether you're interested in adding visual appeal to your property, monitoring traffic, or wanting to automate an existing gate system, TDC can help."
Driveway gates come in a variety of types and styles including:
All TDC gates can be installed on a variety of property types including single and multi-family homes, farms & ranches and commercial businesses.
TDC gate operators can be installed with a variety of options including safety devices, loop detectors, keypads, pedestals, telephone entry, and remotes. With a diverse collection of access control items, TDC helps residential and commercial customers achieve a complete system that specifically meets the needs and demands of their property.
Once a decision has been made as to the type of design and operation of the customer's gate system, then decisions need to be made about how the system is activated. TDC helps customers design a system using any activation from a radio control transmitter in their vehicle to system additions including egress activation devices, telephone entry systems, card readers, keypads. "We can assist with security by providing programmable devices which can be accessed for changes when you're on location or away," said Stuenkel.
Whether you're looking at a new garage door or gate installation, or are in need of maintenance or repair, TDC's experienced IDEA-certified technicians are here to provide you with their knowledge and expertise. We have been working with garage doors and gate systems for almost 30 years, and we will continue to follow that tradition.