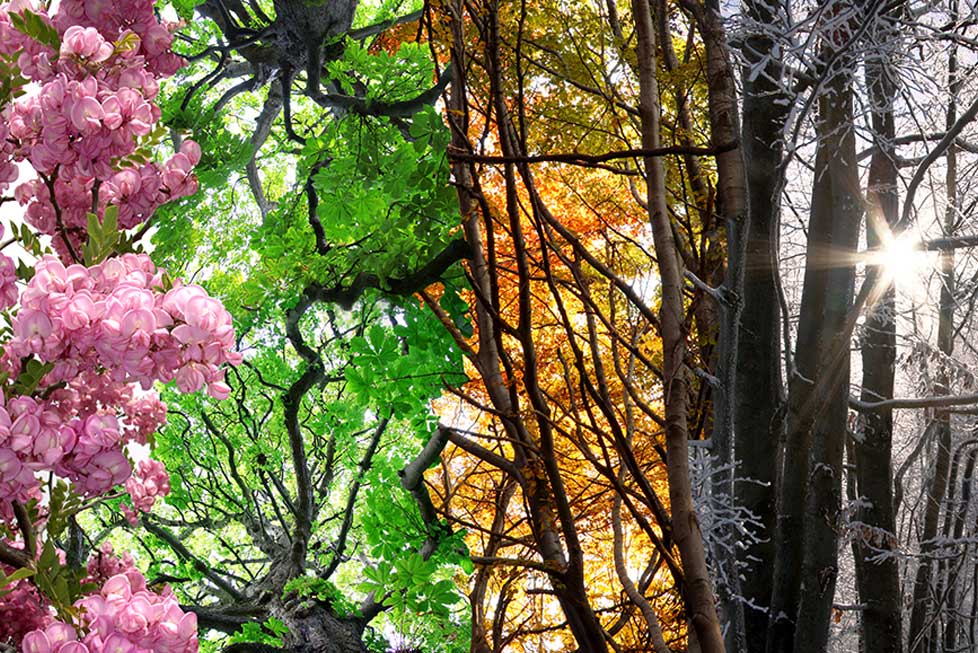 We are entering the decorating season. From October to December, we dress up our homes for three of biggest holidays of the year. Although it's located away from your home, your driveway gate is one of the first things that people see when passing by or coming into your home. So, we, at The Door Company, thought that this would be the perfect time to break out our seasonal decoration tips for your driveway gate.

Fall Season
The fall season is upon us. Leaves are beginning to fall off the trees and preparation for Halloween and Thanksgiving have already begun. You can't go wrong with the beautiful fall foliage colors of orange, brown and yellows. A concentrated bouquet of flowers that represent autumn themed colors could be placed at the top middle of each of your driveway gate doors and you would be good for the entire season.
However, if you want to make adjustments to your decorations based on the upcoming holiday, you can get very creative. Place jack-o-lanterns and spider webs around and leading up to your gate for Halloween. For Thanksgiving, you could utilize chrysanthemums and other fall flower arrangements as well as a fake address plaque for your in-laws (just kidding!). There are stylish and elegant choices for every season, but most of all- have some fun!
Winter Season
Winter is stereotypically seen as a barren, white laden vista, but Northern California doesn't necessarily play to that stereotype. Temperatures get cold, but not too cold, there is little to no snow and not every tree loses its leaves. Still, it's quite beautiful and you can definitely decorate your driveway gate to match that beauty.
Even though winter technically extends into March, Winter is all about that one big holiday. Christmas is where you can really put the nice touches with lights, wreaths and ornaments. If you have light posts leading up to your gate, try giving them a candy cane look with white and red ribbons. Even if you don't celebrate Christmas, there are evergreen arrangements, large red bows and, if you want the hint of snow, you can purchase a fake snowman to greet your guests. Ok, a plastic snowman could get a bit tacky, but the point is to use your imagination and get into the spirit of the season.
You don't want to leave your holiday decorations up for too long, so you might want to start transitioning to Spring decorations a bit early.
Spring Season
Spring in California is beautiful. With the rainy season ending around the end of February, it's a time to get outside and literally smell the roses. Well, maybe not roses depending on where you live, but you get the idea. Spring is a time for the lighter, more pastel-like colors such as coral, lilac purple, sage green among others. Choose a fresh flower arrangement with those colors to hang on your driveway gate doors. Think simple and clean.
Summer
Summer is the time when people are out looking at homes and curb appeal is at its highest. There are no major holidays that require a decorative undertaking so use the season itself as your guide! The beauty of the season itself is its own decoration. Keep your landscape clean, put a fresh coat of paint on your driveway gate (if needed) and plant some row of flowers up the sides of your driveway. It makes for a beautiful first impression to anyone that travels by your home.
A Working and Well Kept Gate is the Best Decoration
All season long your driveway gate is opening, closing, getting dinged by cars, dealing with weather elements and animals as well as a myriad of other items that negatively impact the functionality and beauty of your gate. Be sure to keep it well maintained and don't let the face of your gate get dilapidated. Automation breaks, paint chips and your gate gets dented. It just the way life works.
If you are having a functional issue with your driveway gate or want to upgrade to a more modern design, talk to certified technicians at The Door Company. They are always there to help.