Who doesn't want more living space? Be it a man cave, exercise room, craft or rec room, many homeowners are looking for creative ways to maximize their space. The folks at The Door Company (TDC), California's leading garage door, suggests installing a retractable garage door screen which will convert your garage into usable space.

"If you're looking for a way to convert your garage into extra living space, look no further," said TDC President Mark Stuenkel. "TDC offers roll-up garage door screens that will let the sunlight and fresh air in, but keep the bugs out. Your garage can become living space without the cost of remodeling."
The garage door screen works in conjunction with the existing garage door allowing the homeowner to quickly switch between the garage door and the screen. When in use, the garage door screen exchanges positions with the garage door. When in the up position, the screen it is out of the way and almost completely out of sight, allowing you to use and operate with ease.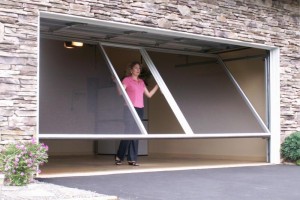 Rather than entertaining a group or working on projects in a stuffy, dark space, garage screens allow you to let the fresh air and natural light filter in. They can help to keep your garage cleaner by blocking leaves and debris that would normally enter an open garage and provide a layer of privacy to your home.
"Our garage screen doors are also a green product because it uses no electricity and 90 percent of the materials used in its manufacture are recyclable," said Stuenkel. "If you do a lot of work in and out of your garage and find yourself with the door more often open than closed, a garage screen door could be the update you need in 2017."