The Door Company (TDC) — California's leading garage door company – has been providing commercial property owners garage door products and service in Northern California for more than 30 years.

When it comes to repairs, one of the most common problems is when the door comes off the tracks. "If your garage door ever comes off its track, stop operating it immediately. If it continues to operate, the door can sustain serious damage," said TDC President, President Mark Stuenkel. "It may be necessary for a garage door technician to put it back on track."
However, if the detached garage door simply comes off its track and you catch it before any damage occurs, you may be able to pop the garage door rollers back onto the track and reattach the door yourself. "It may be a simple realignment problem that could be remedied by the homeowner," said Stuenkel, "however garage doors are big and heavy and DIY repairs can be dicey."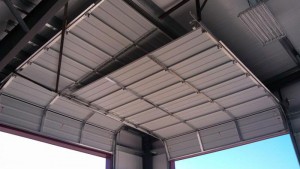 Here are some tips to help keep your garage door on-track:
Tip
Periodically remove debris in the track. Lubricate the garage door rollers with silicone spray to extend their life.
Check that all bolts holding the garage door track are secure. Check the bolts holding the sections of the door together as well.
The garage door track should be plumb — straight up and down. Check it with a carpenter's level. Adjust it, if necessary, by loosening the supporting brackets slightly, making the adjustment in the track and then retightening the brackets.
Warning
Do not alter or adjust the bottom bracket. It connects with the spring system that operates the door. If you loosen it, the tension spring can cause serious bodily harm. Contact TDC if your door has a problem near the bottom of the track.
"For adjustments and repairs that aren't self-evident, I recommend contacting a professional service company like TDC," said Stuenkel. "We can service any residential or commercial garage door within the state of California and Oregon. Our experienced IDEA certified garage door technicians will get your equipment back up and running in no time."