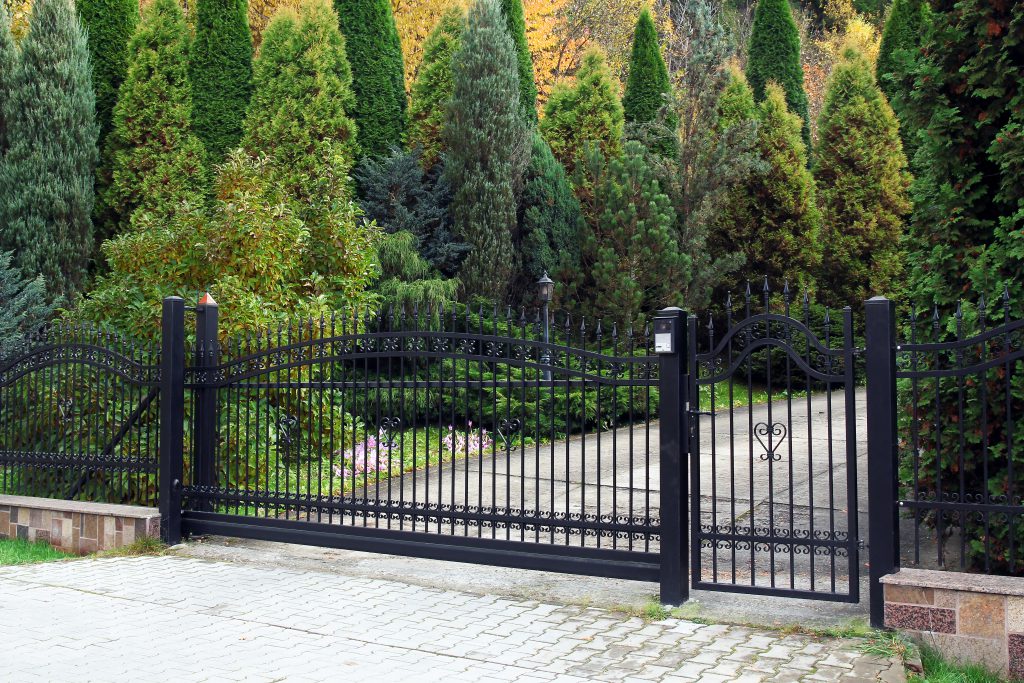 When you typically think of large, automatic gates for a home, your first thoughts are toward the rich and famous. You envision a mansion or a ranch somewhere with a long driveway that leads you to a large house at the top of a small hill. While it is common for larger estates to have an automatic gate, houses of all price ranges and sizes are beginning to install automated gates as a way to improve curb appeal and increase return on investment on the sale of their home.
What Does a Typical System Look Like?
Whether you are buying for a large estate or not, let's go through some of the components that you will typically find in an automatic gate system.
The gates are mounted to posts that are typically set in concrete and that extend deep into the ground for stability.
The automated mechanism that opens the gate is typically bolted to the gate and/or post and then connected via a 120-volt electrical cable or a photovoltaic solar panel. The electricity that powers the gate flows from the cable or solar panel to a rechargeable battery.
From a remote or digital keypad, you can control the opening and closing of the gate. You could even install a keypad at the gate which would allow you to provide a variety of gate entry options including number codes, electronic swipe cards, vehicle tags and some even allow entry with a mobile phone application.
"The Real Estate Industry has begun to see a correlation between elegant driveway gates and property value."
What Are the Benefits of Automatic Gates?
Security and Privacy: A natural supplement to your alarm system, gates are a major deterrent for unwanted guests such as salespersons, pets and that neighbor that's always wanting to drop by for an impromptu visit.  More seriously, a driveway gate keeps out unauthorized vehicles and keeps your pets and children safer, especially if accompanied by a perimeter fence.
Curb Appeal: A well-designed gate can go a long way toward attracting the eye of travelers by. It gives the feel of exclusivity and importance. When properly installed and maintained, an automated gate can improve the look of your home and become a true asset.
Increased Property Value: The Real Estate Industry has begun to see a correlation between elegant driveway gates and property value. This realization has led to many homeowners opting for manual or automated gates to increase the value of their homes. Depending on the location, an automated gate could add tens of thousands of dollars to your home's value.
Insurance: As mentioned, driveway gates are deterrents to crimes like robbery and vandalism. Insurance companies look fondly on any tool that deters your family or your property from damage or harm.  Depending on your situation, some insurance companies may even lower your insurance rates.
Preserve Your Automatic Gate
Automated gates have a lot of moving parts. Just like with your home or car, it needs regularly scheduled maintenance. Not maintaining your gate could lead to it rusting out or you run the risk of a slow, squeaky gate every time it opens. Once your automated gate starts to look dilapidated, you have begun to reduce that curb appeal and property value. Be sure to maintain your gate at least once a year.
"Houses of all price ranges and sizes are beginning to install automated gates."
Invest In Your Home
As you can see, installing an automatic gate for your home has several benefits — from increased property value to keeping your home and family safer. If you are interested in learning more about what your automated driveway gate options are, contact the certified professionals at The Door Company.
Trusted by contractors and homeowners alike, The Door Company (TDC) has been serving the state of California for over 30 years. Our IDEA certified technicians can install and maintain every type of garage door and driveway gate in the market. TDC now has four offices located in Redding, Chico, Yuba City and Stockton. We are considered one of the leading companies in our industry and strive to maintain our leadership.