The Door Company (TDC), California's garage door installation and repair specialists, has been providing customers with garage door products and services in Northern California for nearly 30 years. One TDC specialty is helping customers decide on the type of garage door that is best suited to their style, needs and budget.
As cars have grown more important to our lives, garage doors have gained prominence in residential floor plans. Over the past decade, garage door manufacturers and architects have begun to improve on the curb appeal of garage doors.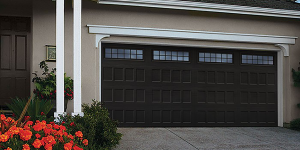 "If you're looking for a new garage door, we have many options in a variety of eye-catching colors and quality materials," said TDC President Mark Stuenkel. "The industry has gotten so advanced that garage doors can now be a focal point of the home."
GARAGE DOOR MATERIALS
Like entry doors, garage doors can be made of steel, aluminum, and wood composites; no matter what the actual material is, the wood look is most popular. The Garage Door Company offers the following considerations:
Since the first raised panel garage doors were stamped in the 1970's, this type of product has undergone several transformations. Steel doors are now available in panel designs from the standard short and long raised panels to a myriad of designs, insulating values and finishes.
Steel Carriage garage doors have a variety of designs and finishes to enhance the look of any home. High definition stamping and applied-trim designs provide choices for almost every home. Insulated and non-insulated Steel Carriage Doors add beauty, security, style to your home exterior and are very low maintenance. Your garage door is the new front door – come and go in style.
If you love the warmth and beauty of real wood, you can design your dream home exterior look to include extraordinary glass top sections and a seemingly endless choice of types of wood. Real wood garage doors require more finish maintenance than other products, but the composite is a great alternative if you are looking for low maintenance.
Sleek and elegant, aluminum and glass garage doors present a modern flair for the design of your home. Finishes for aluminum garage doors are available in a variety of anodize colors or powder coated palettes. Choose your favorite glass to complete the perfect exterior for your beautiful home.
"No matter what material you choose for your new garage door, you can trust TDC for a non-intrusive, quality installation," said Stuenkel. "TDC encourages its technicians to continue educating and training – even those with decades of experience. Our technicians are IDEA certified and our company is accredited."