According to the pros at The Door Company (TDC) — California's leading garage door company – one of biggest factors in enhancing your home's curb appeal is selecting a new garage door in a color and style that complements the home.

There is no question that details make the home; and while exterior finishes and landscaping are huge factors, color can be equally important. Even small enhancements like window trim color or the use of stone or brick can make an impact, however, the biggest consideration is often the garage door color since it is a pronounced swath of color.
As one of the largest single features of a home, a garage door's color can play a major role in how much or how little your home stands out in the neighborhood. If you are planning on painting your home or replacing your garage door, take some time to consider garage door colors. If your home is a neutral color, such as beige or gray, a white door will give it a cleaner, brighter appearance. On the other hand, if your home is already white or beige, adding a bit of color is a great way to brighten up the home while still keeping it simple. In both of these cases, the key is to create contrast.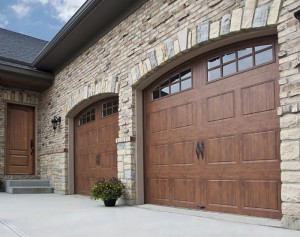 Depending on the model and material, garage doors can be available in a variety of colors and finishes. TDC's most commonly available residential garage door colors are:
White
Almond
Bronze
Sandstone
Desert Tan
Brown
Evergreen
Hunter Green
Dark Brown
Gray
Woodgrain
Cedar
Oak
"When choosing garage door colors, you can really let your personality stand out," said TDC President, President Mark Stuenkel. "If a customer wants to make a bold impact, we suggest black or a hunter green color. Warmer colors such as woodgrain and sandstone add richness and depth to the exterior of the home."
Replacing the garage door ranks as one of the top five home improvement projects that generates the highest return on investment at resale, according to Remodeling Magazine's 2016 cost-vs-value report. Homeowners can expect to recoup 91.5 percent of their investment in a new garage door.
"Recently, garage doors began to be an important exterior design consideration," continued Stuenkel. "Now homeowners have a wide range of garage design and material options, meaning you can get a door that secures your home and enhances its curb appeal."