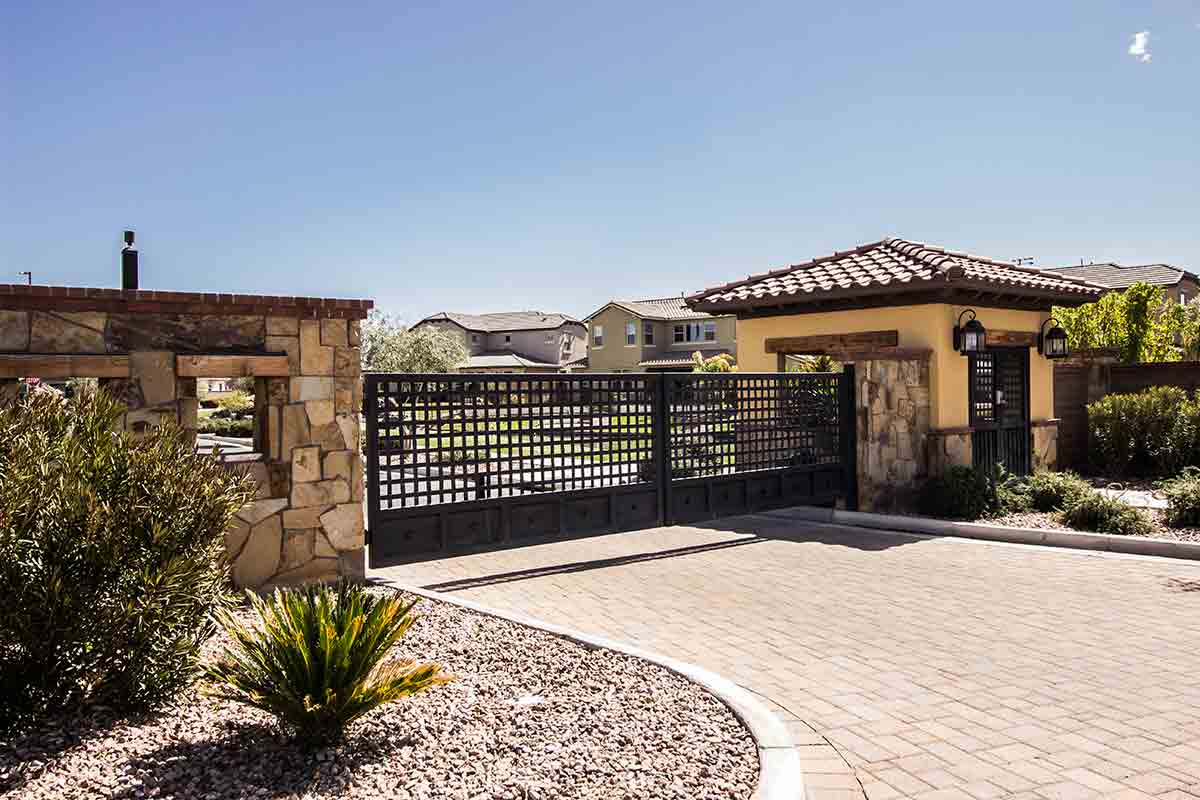 It's not unusual to see automatic gates in the driveways of grand houses, large estates or ranches. However, this status symbol is now an amenity that average homeowners can enjoy too. The Door Company (TDC), California's leading garage door company, is proud to offer automatic entry gates for homes of all sizes and price ranges.
TDC's driveway gates combine style and function while improving curb appeal and increasing security. We offer three main opening styles: Swinging Gates, Sliding Gates, and Four-fold Gates.
Sliding Gates — Ideal for applications where there is insufficient room for swing gates to open into and where higher security is required. Assuming the customer has fencing, the gate simply slides open parallel to the fence.
Swing Gates — Feature a hinged opening motion that is stationary at one end and swings open or closed on the other end. A swing driveway gate is typically more cost effective than a sliding gate.
Four-fold Gates — Used to control vehicle access control to a parking garage. The four-fold door panels fold completely clear of the opening and are visible by drivers during their entire operation — eliminating costly damage to both the doors and vehicles.
"Installing a driveway gate not only makes a beautiful front entrance statement, it also provides extra protection and adds value to your home," said TDC President Mark Stuenkel. "Electric openers and optional accessories can be matched with the gate to ensure smooth operation and lifelong reliability."
In addition to selection, TDC will help the homeowner decide the best place to locate the driveway gate. "You should select a place that allows your vehicle to safely exit the roadway while waiting for the gate to open," said Stuenkel. "We also make sure you envision the gate fully open and look for any objects that might obstruct its path, like uneven ground or a sloped driveway."
Other considerations TDC handles are bylaw restrictions for height and location setbacks from property lines or road edges. For example, will a driveway gate block a neighbor's view of the street? Is the gate set far enough in that a vehicle can sit comfortably off the road while it is opening? What bylaws are in place that determines fire code and firefighter access to the property?
Whether you a looking for a new garage door, a garage door repair, or to install a garage door gate, TDC team members are all experienced garage door professionals. TDC encourages its technicians to continue educating and training – even the most accomplished personnel with decades of experience.
"If the job has anything to do with garage doors, you know TDC will get the job done right every time!" said Stuenkel.