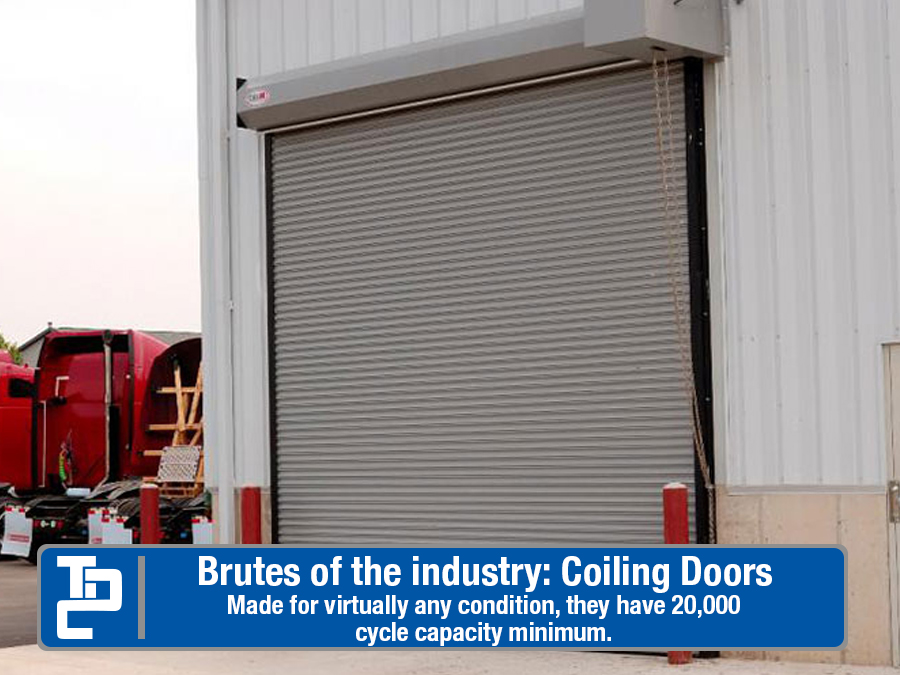 The Door Company (TDC), one of Northern California's leading garage door companies, offers commercial customers a variety of heavy-duty coiling doors, known as the "Brutes of the Industry."
Coiling Steel doors are metal slatted doors that roll up to store in a coil above the opening. They are used to provide security against entry or weather protection at exterior and interior openings in industrial, commercial, institutional and other buildings.
They are built to withstand virtually any condition, are available in both insulated and non-insulated, and can have higher operation capacity in windier areas. These garage doors are available in three paint colors, hundreds of power-coat colors and can come with graphic designs and logos.
"If you're looking for strong and sturdy, a coiling garage door is for you," said TDC President, Mark Stuenkel. "Our industrial grade coil doors typically last the life of the building with very little cost of maintenance."
Roll-up sheet doors are ideal for mini warehouse and storage facilities. Constructed from sheets of steel roll formed with integral grooves that are hemmed together to form a continuous sheet guided vertically by roll formed guides. Rolling steel guides are typically made from 3/16" to 1/2" thick structural steel angles.
Heavy duty coiling doors are mounted to the face of the wall and supported by the vertical wall and require no connection to the ceiling or roof structure. "While coiling door may cost more than a typical sectional door, overtime, customers may save more as they will spend less on service and maintenance," said Stuenkel.