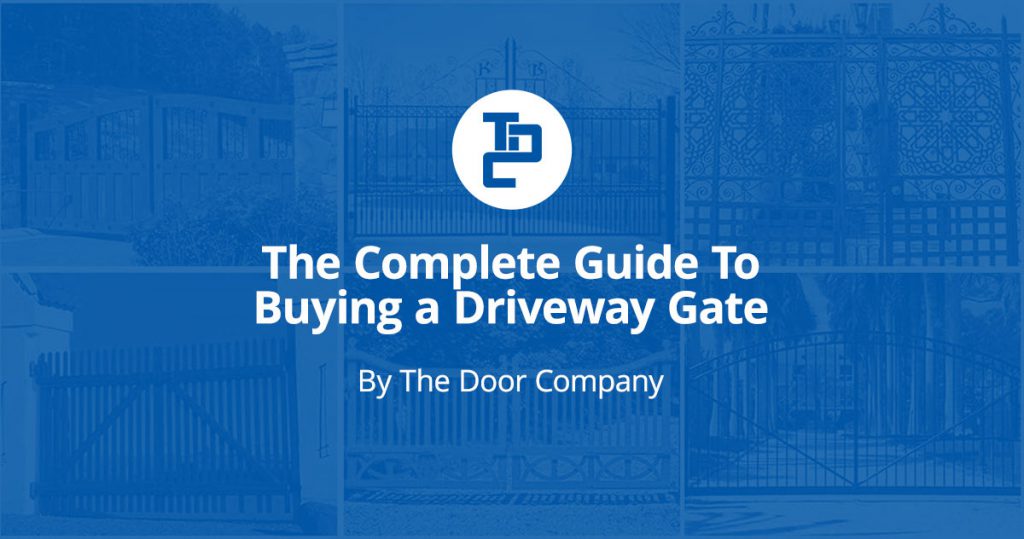 Adding a driveway gate to your home property can increase the value of your home by as much as 5%. If you are already thinking about getting a gate for your home, it's important to think about design, functionality and the contractor before making a decision. The choices you make will have a meaningful impact on the lifespan of your gate and future value of your home. To help you make the right choices, here is The Door Company's complete guide to buying a driveway gate.

Design is Everything
If you are looking to add a driveway gate as an investment in your home's value, then you should know that curb appeal holds significant importance to potential buyers. The design of your gate can differentiate you from other homes and create a sense of style and class that is typically sought after in the open market. Here are a few gate designs that never go out of style:
Understand the Features of Your Gate
After choosing the perfect design for your gate, you want to turn your attention to the features that you might want. Many homeowners are choosing automated gates for ease of use and increased resale value.
There are many options for how automation works. It could be a basic system that uses a remote or a more advanced system that uses sensors or an RFID transmitter that automatically detects your car and opens. You could also choose to install cameras for added security. Be open to battery backups and surge protection options as storms could render your gate inoperable leaving your automobile stuck at home or just outside it.
How Should You Choose Your Contractor?
So, you picked out a great design and researched all the features you want. Now it's time to choose a contractor. Here are a few important items to check off your list:
Maintenance – Find a contractor that provides full and complete maintenance packages. You may not need maintenance now, but remember, your new driveway gate is a long-term investment. Regular maintenance is a necessity for a driveway gate. It will increase the lifetime value and keep your gate running smoothly.
Repairs – Just like most products, the people that installed or created it are typically best suited to repair it. You will undoubtedly encounter rough storms and general wear and tear on your gate. Look for a contractor that offers quality pricing on repairs that can offer a fast response time.
Experience – You have your choice of contractor, but try to hire one that has a strong reputation in the community and a great deal of experience. Check review sites to see how they stack up against the competition with customer satisfaction.
Credentials – There are many companies out there that aren't licensed and don't have the credentials associated with high-quality service and installation. Look for Idea Certified and Door Dealer Accreditation in your search for a contractor.
The Door Company Can Help
Picking out a driveway gate for your home can be daunting, but it doesn't have to be. The Door Company can work with you to aid in your selection process from start to finish. We know what's in style and we bring 30 years of experience to the table. If you want to discuss improving your curb appeal with a driveway gate, give us a call.