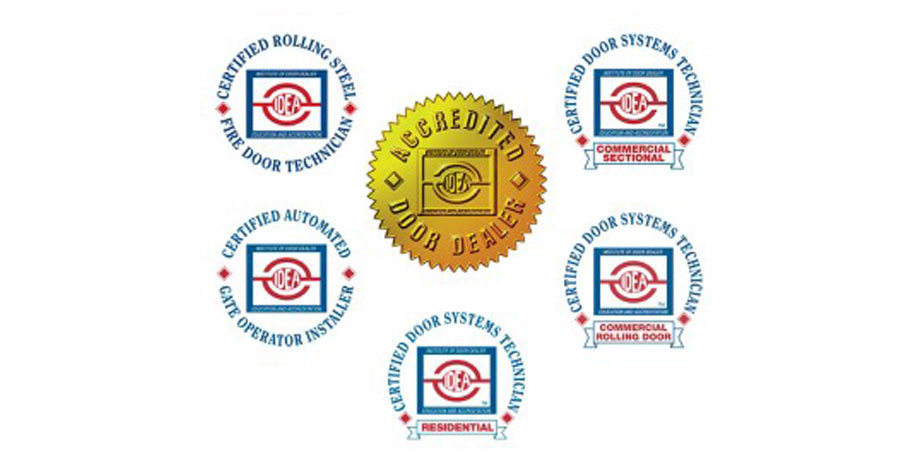 Northern California's leading garage door company, The Door Company (TDC) is proud to affirm that their technicians are certified by the International Door Association (IDEA) and the company as a whole is an Accredited Door Dealer as awarded by the Institute of Door Dealer Education and Accreditation.
The objective of accreditation is to advance public safety and serve in the public interest by promoting and recognizing professionalism in the door, gate and access system industry through education, accreditation and certification.
"Whether you are buying a new garage door, or getting an existing door repaired, it is important to look for an accredited garage door dealer," said TDC Founder and President, Mark Stuenkel. "There are a lot of unscrupulous people out there who could do a shoddy repair or even create a dangerous situation with an improperly installed new door."
TDC team members are all experienced garage door professionals, who are encouraged to continue educating and training (even those with decades of experience). "Our technicians are IDEA certified and our company has been accredited since 1997, which was the first year the testing was available," said Stuenkel. "All of our accreditations and certifications must be renewed at least bi-annually with continuing education."
Three of TDC's lead technicians have all five available certifications: residential, commercial sectional, commercial rolling door, rolling fire and automated gate. They were the first three technicians worldwide to hold these five certifications and two more have achieved "Master Tech" status.
The International Door Association (IDEA) offers accreditation and certification to foster professionalism and recognize high business standards throughout the door and access systems industry. "I think it's important for our customers to know that TDC takes the time and makes the effort to keep pace with industry standards," said Stuenkel