A garage is often used for parking cars and storing household items. To ensure your garage remains the versatile space that it is, your garage door needs to be operating correctly. Garage doors are an essential part of your home, keeping you and your belongings safe. To better understand your garage, here's how garage doors work.
The Garage Door Itself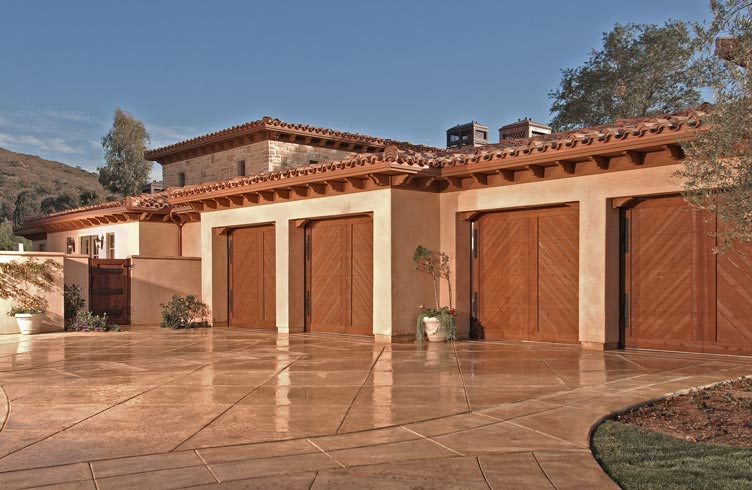 Before going into the more intricate components of a garage door system, you should know a thing or two about the door itself. The garage door's shape, size, and weight will determine the other parts needed for the garage door system. Garage door materials vary from vinyl to wood to metal. Styles range from modern smooth panel doors to more traditional carriage style doors. At the end-of-the-day, the material and style you choose are entirely dependent on you and what is allowed within your building code and homeowner association limits.
Torsion Spring System
The Torsion Spring System is the most common garage door system. Typically, you can find Torsion Springs mounted above the doors opening. As the door comes down, cables attached to the bottom corners of the door cause the springs to wind up, and this winding creates stored energy. When the door opens, the springs unwind, and the force helps lift the garage door. But, as time goes on and the door continually cycles up and down, the steel in the springs weaken and can no longer lift the door. Torsion springs typically last 10 years.
Maintaining your garage door is the best way to prevent high costs for part replacements, large repairs or a brand new door.
The Basic Components of a Garage Door System
While the process of your garage door opening and closing may seem elementary, various pieces of hardware work hand-in-hand to ensure functionality:
Springs – As mentioned prior, torsion springs are the most commonly used garage door systems. However, you will also often find extension spring systems in garages. Extension systems utilize two springs on either side of the garage door. Extension spring systems typically last up to 7 years.
Cables – Cables work alongside the springs to lower and lift the door. Usually, made of braided steel wires, the thickness of your cables depends on your garage door's dimensions.
Hinges – Hinges are installed on garage door panels, allowing the sections to bend and retract as the garage door opens and closes. We recommended that heavier garage doors have double hinges.
Tracks – Tracks assist with horizontal and vertical movement. Thicker tracks are less prone to bending and warping, providing better support for your garage door.
Rollers – To move along the track, your garage door uses steel, black nylon or reinforced white nylon rollers. Nylon rollers provide quiet operation, especially when they are lubricated.
Reinforced Struts – Struts help support the weight of double garage doors while in an open position for an extended time.
Weatherstripping – Weatherstripping serves as insulation for your garage door, maintaining energy efficiency and preventing outdoor elements (moisture, pests, debris, etc.) from entering your garage.
How Can I Extend the Lifespan of My Garage Door?
Lubricate
Once a month, you should lubricate your garage door spring, rollers, tracks, and weather-strips. Keeping your garage door system lubricated prevents friction from causing excessive wear and tear. When selecting your lubricant of choice, use a silicon-based gel, and apply generously.
Test Your Reversal System & Sensors
Mandatory safety reversal systems make sure your garage door automatically reverses when coming into contact with an object or obstruction. The failure of these systems leaves people and belongings vulnerable to the force of a closed garage door. It can also cause excessive strain on your entire garage door system which dramatically decreases its lifespan.
Check Your Springs
You'll want to check your springs monthly. A broken spring is the most destructive issue with any garage door system, leaving your garage compromised.
Align Tracks
Like the garage door spring, any alignment issues cause strain on all the other components of the garage. While you may be able to solve some minor problems with your tracks on your own, you'll be better off getting in touch with a technician in case a larger repair is needed.
Maintaining your garage door is the best way to prevent high costs for part replacements, large repairs or a brand new door. If you notice any issues that you are unable to handle, call The Door Company.