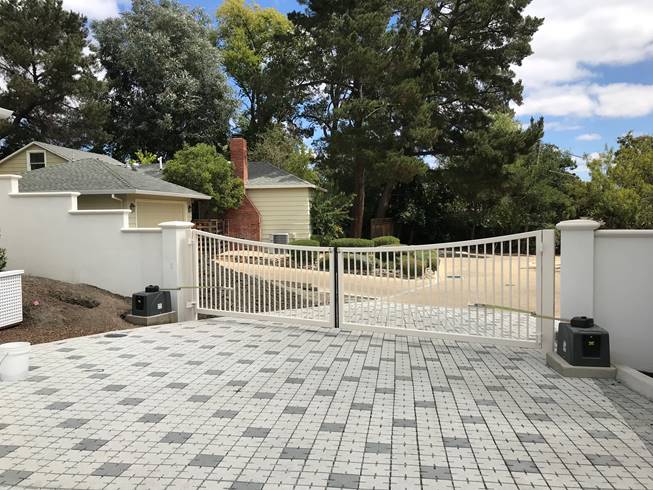 The Door Company (TDC), California's leading garage door company, recently completed a stunning swinging gate project for a customer in the Bay Area's new Sanctuary neighborhood.

The powder-coated swing gate system was installed to allow for the sloped driveway with necessary position changes during the gate opening and closing motions. During operation, the gate twists on its axis to allow for the slope and when closed, the gates are perfectly aligned.
"This was a highly technical project with its own specific challenges," said TDC President Mark Stuenkel. "TDC created a custom solution that resulted in a very satisfied customer."
TDC offers offer automatic entry gates for homes of all sizes and price ranges. Swing gates feature a hinged opening motion that is stationary at one end and swings open or closed on the other end. The advantages of swing driveway gates are:
Costs – A swing driveway gate is typically less expensive than a sliding gate. Though they can be about the same size and made of the same material as sliding gates, the mounting and operation increase the cost. Sliding driveway gates require a track and rollers, while swinging gates only need hinges.
Maintenance – A swing gate is the most maintenance free type of gate, especially if it's manual. A sliding gate requires a track that's clean. If any kind of debris gets into the track it can stop the gates from sliding freely and even cause them to derail.
Available Space – Sliding driveway gates require little room to operate while conversely, a swing gate takes more room to operate. If your driveway is 12 feet or less across, then a single swing gate is recommended. You'll need clearance on the opening side so that it can open all the way and provide enough room for cars to pull off the road while waiting for the gate to open. For wider driveways, double swing gates are recommended.
"Installing a driveway gate is not only makes a beautiful front entrance statement, it also provides extra protection and adds value to your home," said Mark Stuenkel. "Whether you are looking for a new garage door or to install a driveway gate at your home, TDC team members are all experienced garage door professionals and can handle almost any job."