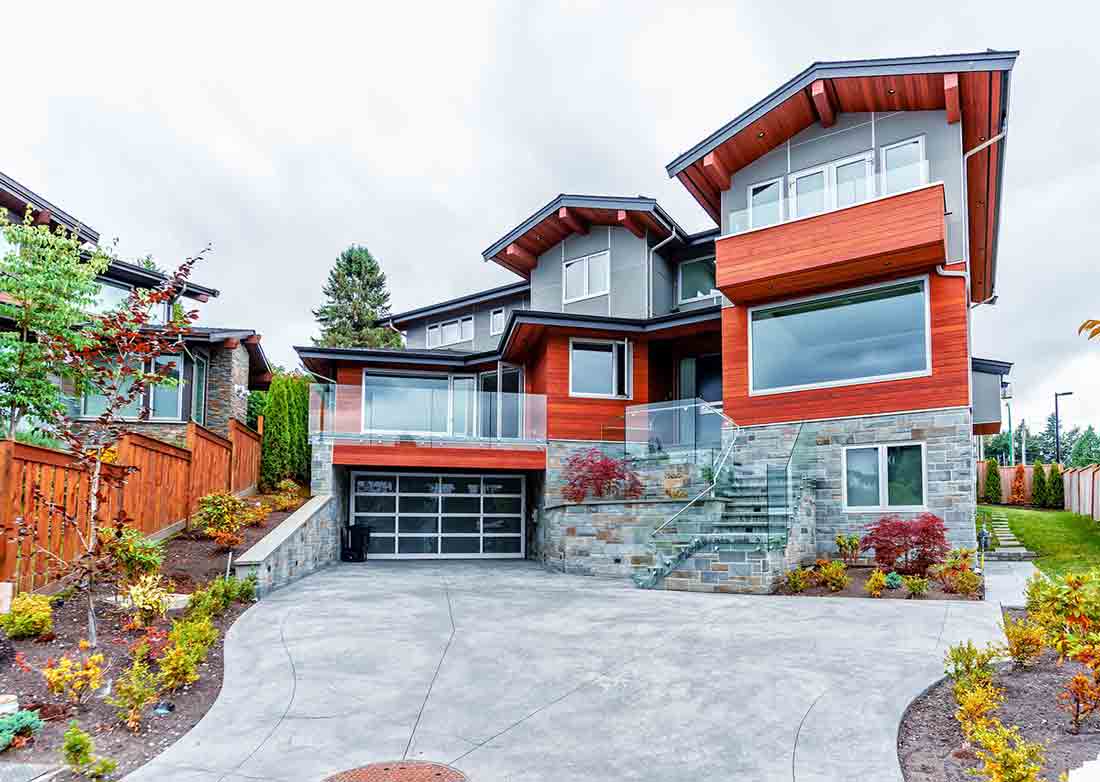 Too often during the design stage of a home, residential garage doors are treated as an afterthought – favoring utility over design. But garage doors are one of the most prominent features in homes with front-facing, attached garage doors – for better or worse. Modern garage doors have more options than ever, which places the design power back into homeowners' hands. Let's look at the different types of residential garage doors, to discover which suits your style and curb appeal.
5 Types of Residential Garage Doors
Sectional Garage Doors

Due to their versatility, price, and low maintenance cost, sectional garage doors are the most popular of the different types of residential garage doors. Sectional garage doors are typically made of aluminum or steel, and can be customized to include window inserts, insulation, textures, and different colors.

Canopy Garage Doors

Canopy garage doors are up-and-over garage doors that move in one solid piece. Unlike sectional garage doors, canopy garage doors will not tuck all the way into your garage. An up-and-over canopy door will protrude approximately 1/3 from your garage door opening – hence the name.
In its fully open position, the face of a standard canopy garage door rests horizontal to the pavement on angled arms. When in motion, the arms either retract or expand in order to move the canopy face up or down.

Carriage Garage Doors

Carriage-style residential garage doors, also known as "barn-style garage doors," have a more quaint appeal. They date back to the era of the carriage house, which was meant to store horse-drawn carriages.
Today's modern carriage garage doors don't house horse-and-buggy, but they do add an old-world charm to any home. Because carriage doors were originally crafted from wood, natural finishes are often popular for this type of residential garage door, but you can opt for a steel carriage garage door.

Side-Hinged Garage Doors

While not terribly popular in residential applications, side-hinged garage doors offer unique benefits – and they look extra sleek. If you have obstructions inside of your garage, limited headroom, or if your garage is used solely for storage, you may want to opt for a side-hinged garage door.
This type of residential garage door has two panels that swing outward to open. While they do take up more space in your driveway when they are in motion, side-hinged garage doors can be a convenient choice for better accessibility to a garage that is packed to-the-brim of boxes and items in storage.

Roll-Up Garage Doors

Roll-up garage doors are made up of multiple horizontal slats of steel. When the garage door is in motion, the long, slender panels wrap around a cylindrical coil mechanism that hangs on the interior of your garage.
Roll-up sheet doors are most commonly found in use on backyard sheds and other residential garage storage alternatives. They are incredibly durable and easy to maintain.
Find a Trusted Garage Door Installer
Whether you're ready to buy, or if you have more questions, you can count on The Door Company to help you from browsing to garage door installation. The Door Company has locations throughout Northern California, and offers garage door repairs, installation, and other services to the surrounding areas.
It's important to choose a quality garage door company that you can trust. Make sure your contractor has plenty of great reviews, offers maintenance and repair options, and has both IDEA certification and a Door Dealer Accreditation.