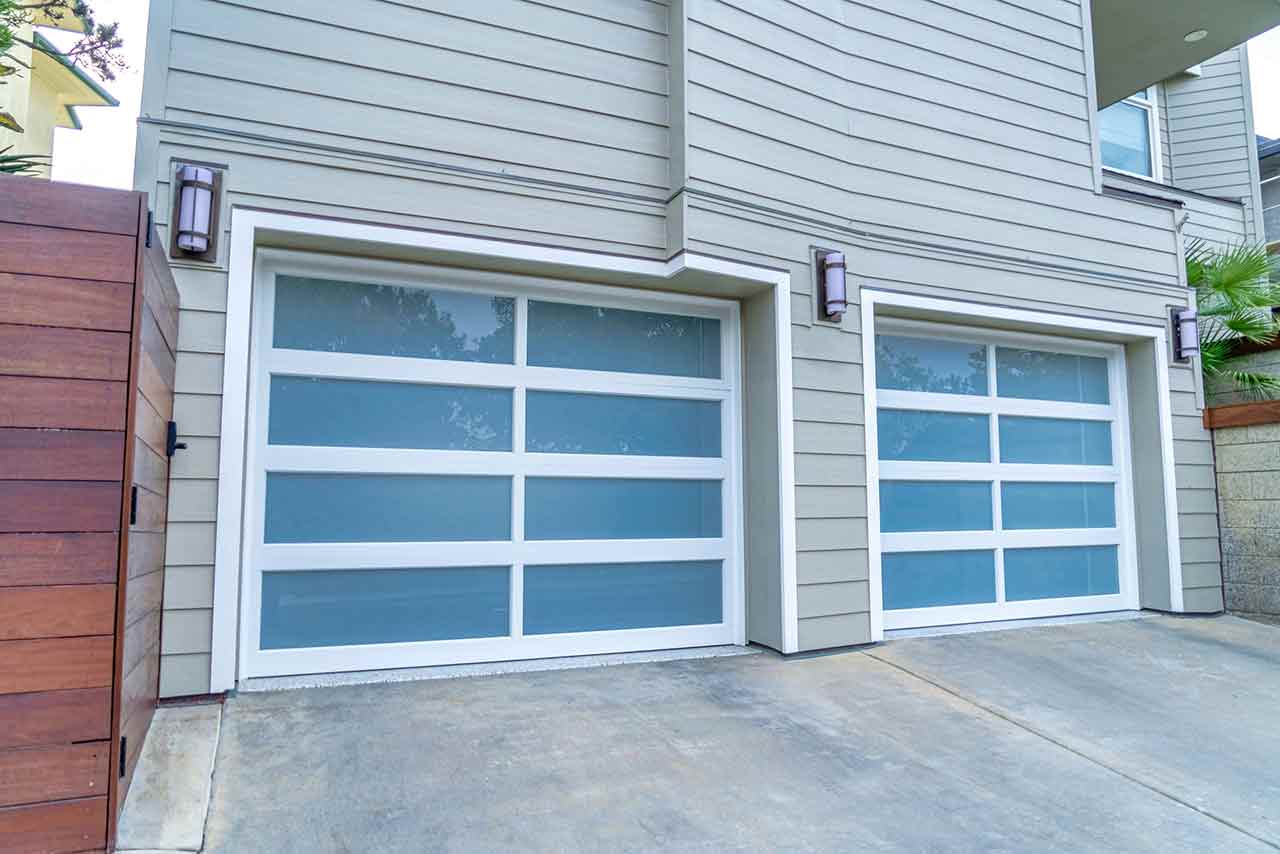 If you're shopping for a new sectional garage door, you might feel lost when it comes to choosing the right material. From metal and vinyl to glass and wood, there's a wide variety of materials and styles to choose from. Aluminum and steel garage doors are the most popular options for new installations. Let's break down the differences between aluminum and steel garage doors so you can decide what's best for your home.
Aluminum vs. Steel Garage Doors: Weight
Weight is an important consideration for garage doors. Why? It impacts the garage door's lifespan, energy usage, and your family's safety.
Door weight is important when trying to figure out what torsion or springs are needed to counterbalance the door. The actual weight of your garage door depends on the materials chosen, desired thickness of your door, insulation, accessories, and the size of your garage door opening. Aluminum garage doors are lighter than steel, which reduces stress on torsion springs and mechanisms – and makes them less dangerous if they malfunction and fall.
On average, steel is 2.5 times denser than aluminum.
A heavy-duty garage door can improve your property's security. Valuables such as vehicles, equipment, and storage items occupy residential and commercial garages. A heavy garage door can protect your property during severe weather. 25-gauge steel is the industry standard for residential garage doors. 24-gauge steel is better for garage doors located in windy, coastal areas for more durability.
Aluminum vs. Steel Garage Doors: Style
Aluminum garage doors are growing in popularity due to their versatility in design and lightweight – which is perfect when incorporating other materials into a garage door design. Aluminum garage frames are paired with glass panels that create a stunning, modern garage door. While these types of sectional garage doors are gorgeous, sleek, and minimalist, they aren't as durable as a solid steel garage door.
Aluminum vs. Steel Garage Doors: Maintenance
Just like any other part of your home or piece of equipment, your garage door will eventually need maintenance. If installed properly, either type of metal garage door should require minimal maintenance and repairs.
A considerable difference between aluminum and steel garage doors is that aluminum garage doors are rust-resistant. Stainless steel garage doors are also rust and corrosion-resistant, but can quickly increase the cost of your garage door. While aluminum garage door panels are corrosion-resistant, the components (hinges, tracks, and springs) still need to be maintained.
When necessary, cleaning the sliding tracks, panels, and sensors will prolong the garage door's function. Cleaning the panels should be done only when heavy dirt, grease, or dust builds up over time. Lubricating the tracks and chain with a spray can also help the tracks to run smoothly; however, this should be done sparingly. It's always best to consult the manufacturer's information or to call a garage door repair company with IDEA-Certified garage door maintenance technicians.
Aluminum vs. Steel Garage Doors: Weather
If you live in a coastal region, salty, moist sea air can cause corrosion. The corrosive nature of salt air eats away at steel, which can quickly compromise the structural integrity of a steel garage door. For this reason, aluminum is a better choice. Aluminum is more water-resistant than steel, providing better protection from corrosion damage.
If you live somewhere with extremely hot summers and frigid winters, you might be better off choosing a steel garage door or an insulated aluminum garage door. Because steel is heavier and conducts heat less efficiently than aluminum, it keeps garage temperature steadier year-round. An insulated aluminum garage door can also help increase energy efficiency regardless of outdoor temperature fluctuations.
Aluminum vs. Steel Garage Doors: Durability
Overall, steel is more durable than aluminum. Not only are these doors built to withstand extreme weather and fluctuating temperatures, but their density makes them less prone to damage. If you move a lot of heavy equipment around in your garage or driveway, it may be worth it to invest in a steel garage door that can withstand minor dings, scratches, and dents.
Aluminum is still durable, but if you're concerned about damage, consider an insulated aluminum garage door. Aluminum doors are more vulnerable to dents and dings than steel, but a little care will prevent damage. A well-maintained aluminum or steel door will likely last for many years.
Aluminum vs. Steel Garage Doors: Budget
The price of aluminum and steel is heavily subjected to the limits of supply and demand. Sometimes steel is cheaper and sometimes aluminum is. It's worthwhile to research the availability of each type of material when looking for a new garage door. Prices also vary based on the type of metal, finish, and hardware. For information about availability and pricing, contact us today.
The Door Company Can Help
Choosing the right type of garage door material for your property is an important choice. Whether you need a commercial sectional steel garage door that can withstand impact or a residential aluminum and glass garage door that provides an updated look to your home, The Door Company can help. We'll review your wants and needs for your property, so we can help you come to a decision that's best for you!