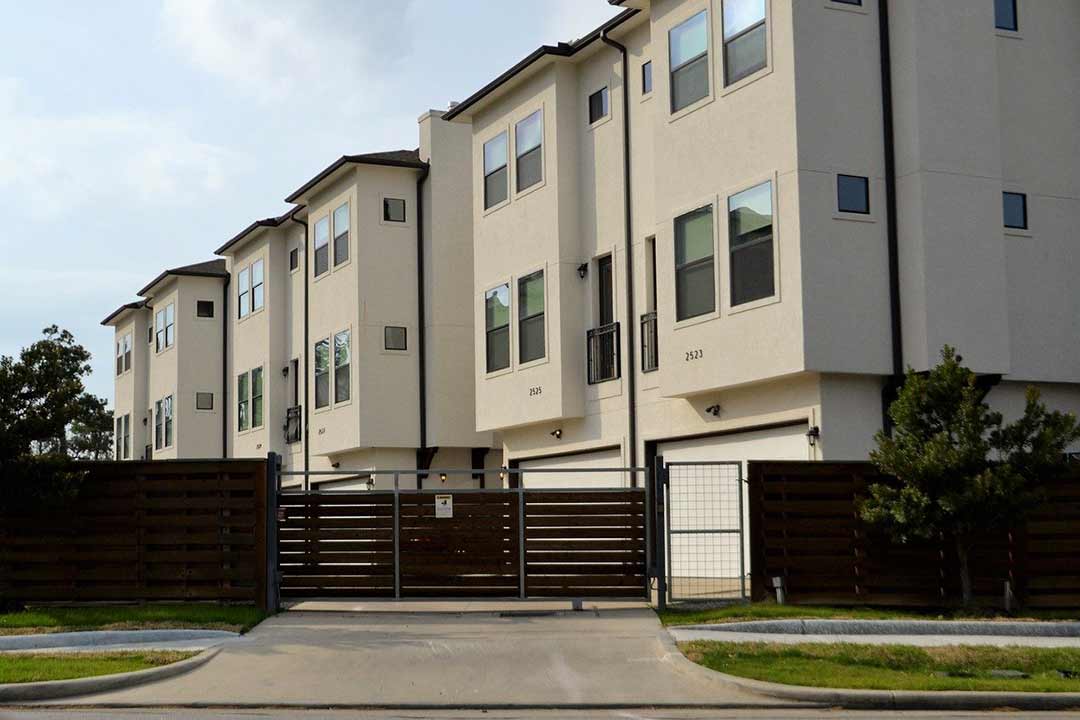 Sliding driveway gates are a great choice for securing your commercial or residential property. Before choosing your gate, it's important to know about the different types of sliding driveway gates – and the major differences in how they function. In this article, we'll look at some popular options and go over the types of properties that can benefit most by installing a sliding driveway gate.
Types of Sliding Driveway Gates
There are several types of sliding driveway gates. While each option can add value, privacy, and security to your property, you should know what will suit your needs and function best with your property. Factors like driveway angle, driveway material, and how much space you have in your driveway are all important factors in choosing the best type of sliding gate for your property.
Let's look at each type in more detail so that you can determine which one will be best suited for you.
Cantilever Sliding Driveway Gate
While there are a few types of sliding driveway gates that have wheels that sit in a track on the ground, the cantilever sliding driveway gate has wheels affixed to a vertical post. They sit above the ground, reducing the risk of the slide function of getting blocked or damaged. Their sturdy construction makes them a perfect choice for gravel driveways and commercial properties.
Retractable Sliding Gates
Retractable sliding driveway gates, also known as rolling driveway gates, include a wide range of gates. This type of sliding gate features wheels that sit within a track in the ground that allows for the gate to slide along the groove. There are both manual and automatic retractable sliding driveway gates, and which is best depends entirely on you, your budget, and your needs. Two of the most popular types of sliding track types are the rear-pipe sliding track and V-track.
Rear-Pipe Sliding Track Wheel
Rear-pipe track wheels are perhaps the most affordable and common tracks used for lower-end fences, such as chain-link fences. A rear-pipe sliding track works manually by having two metal wheels mounted to the base of the fence assembly itself. This sturdy track wheel can hold up over long periods of time and can withstand harsh weather conditions. These are often used in commercial and industrial settings.
V-Track Sliding Track
Getting its name from the shape of the track, a V-track is one of the most economical options and fastest types of tracks to install. The wheels of your sliding gate sit inside of the V-shape track and glide along the V-shaped groove. The shape helps reduce noise and friction on the tires of passing vehicles. These are often used in residential and commercial settings.
Tip: Always be sure to maintain your track and keep it clean. If gravel, dirt, or debris builds up in the track, it can damage your gate.
Telescopic Sliding Driveway Gate
Telescopic sliding driveway gates are a bit different and feature a multiple-piece construction. Telescopic gates are layered, with each section sliding behind the next layer when in operation. This allows for a large opening width to fit neatly into a much more compact space.
Automatic Sliding Gates
Automatic sliding gates are just sliding driveway gates that have a motor or are otherwise operated remotely by pressing a button, scanning a key card, or entering a passcode. Many of the sliding driveway gates we have looked at are available as both manual sliding gates and automatic sliding gates. While automatic sliding gates are more expensive, they are considerably more convenient – especially in winter or in the rain, when getting out of your vehicle to open a gate manually can be uncomfortable.
What Types of Properties are Ideal for Sliding Driveway Gates?
Sliding driveway gates are the best choice for office complexes, commercial properties, condominiums, and apartment buildings. They're also great choices for modern homes and larger private residences. A sliding driveway gate is always a great choice for securing the entrance to your business or private driveway.
Sliding Driveway Gates are the Best Solution
If you want to secure the entrance to your premises, whether private or commercial, then a sliding driveway gate is a smart choice – you just need to know what type of gate and track will suit your property best. If you are still unsure, contact the IDEA-certified technicians at The Door Company. Since 1986, we've been providing safety, privacy, and peace of mind to the Northern California area. Contact one of our offices in Chico, Yuba City, Redding, or Stockton, and we'll help get your property secured.