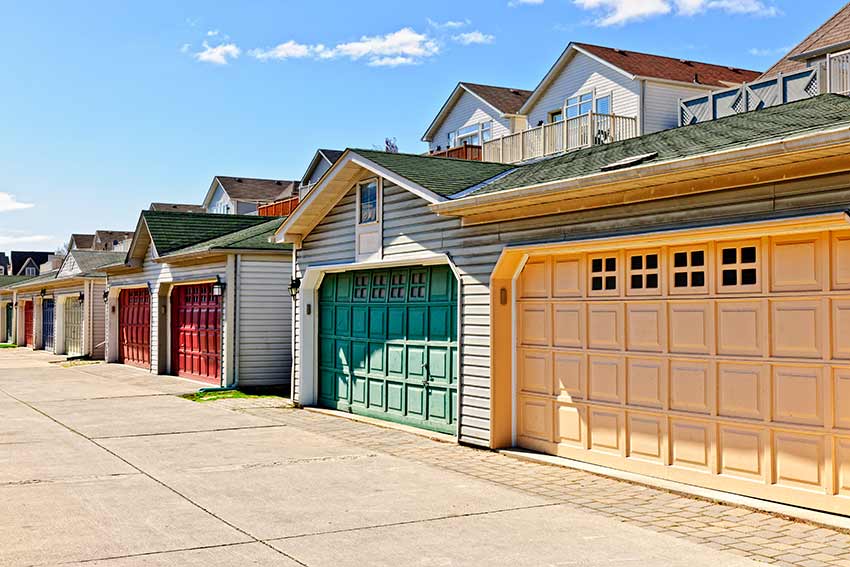 Most homes have garage doors that are used daily, yet they are often an afterthought when it comes to our homes.
Even when we do think about garage doors, we often only think about functionality. After all, the main purpose of a garage door is to keep cars and other items inside the garage safe and secure.
But garage doors do so much more than shelter cars from the elements. There are many reasons to love garage doors beyond their functional benefits. Whether you're looking to invest in a new garage door or just thinking about improving your home – here are a few reasons you should get to know and love your garage doors.
Enhance the curb appeal of your home
Garages can often take up a sizable portion of the front of your home, making it one of the most important features of your home. An upgraded or unique garage door can do wonders for your home's curb appeal.
Instead of rolling driveway gates, consider choosing an upgraded garage door instead. There are a variety of ways to dress up your garage door and give your home a more polished look. Sectional doors are a popular and versatile option.
However, you can always choose something more unique to fit the style of your home. Carriage-style garage doors (or barn doors) can add charm to your garage space. Or a canopy door, that opens outward to create a sheltered area in the front of your garage, can bring a modern touch.
Boosting your curb appeal with your garage door can help you fall in love with the outside of your home. Excellent curb appeal can also impact the value of your home – with a 97% ROI a garage door is a great investment.
Improve energy efficiency
Garage doors are functional in more ways than one, they can also make your home more energy efficient and eco-friendly.
Your garage door creates a layer of insulation, helping to keep heat in during the winter and out during the summer. It can also provide a buffer against drafts, further improving your home's energy efficiency.
It's possible to boost the effects by insulating your garage door. This can help maintain the temperature within your garage and offer better protection for the items stored inside. Improving your garage's energy efficiency can also help save you money on heating and cooling costs.
You can also minimize your carbon footprint by choosing eco-friendly materials for your garage door. Wood is a great natural solution, while aluminum and steel can last for up to 30 years – reducing the need to constantly replace your door.
Make your home smarter
Smart homes are getting more and more popular. Homeowners (and buyers) are prioritizing features that can be managed through their phones or remotely. One area you can add smart features to is your garage door.
From keypad entry to remote controls, electronically-equipped garage doors have been around for a long time. But there are ways you can make your garage smarter.
Garage doors can be connected to a timer, so you never have to worry about forgetting to close the door. You can even set up your garage door to operate via your smart home system, helping you keep tabs on when the door is open or closed.
Being able to digitally manage your garage door is also a great way to improve the safety features of your home.
Finally, if you're looking for an ultimate upgrade you can even set up your garage door to open automatically when your car pulls into the driveway.
No matter what smart features you opt for with your garage door, make sure to choose one that includes manual release. So if there is a power outage, the emergency garage door release will disengage the door from the opener, so you can open it manually.
So whether you're looking for added security or just a little more convenience, a garage door can definitely make your life easier and smarter.
Make your home safer
Many people think sliding or swinging gates are a great way to keep unwanted visitors out, overlooking the safety benefits of garage doors. While a garage door may seem like a simple home item feature, it can actually play an important role in keeping your home safe.
If you store any valuables in your garage, a garage door can help to keep them out of sight and deter would-be burglars.
A steel garage door is incredibly dense and sturdy, helping to protect your vehicles from vandalism and theft.
Garage doors are incredibly heavy, which can make them dangerous. So it's important to choose garage doors with the appropriate sensors and safety features. For example, including sensors that prevent the door from closing if something is in the way!
A garage door can give you additional peace of mind knowing your home and family are safe.
Get a garage door you love
The Door Company is the leading specialist in residential garage doors in California. Whether you're in need of emergency garage door repairs or looking to make an investment in a new garage door, contact us today.